公告进程时间:2023-04-23
Over the past 4 decades since the establishment of Shenzhen Special Economic Zone, the city's vocational education has grown in tandem with its industry development, providing strong talent support for the reform and opening up and the local economic and social development. Shenzhen Polytechnic (SZPT) features an educational model deeply integrated with industrial needs, and a comprehensive training system that comes with multiple pioneering efforts in China's higher vocational education. As the college plays a major role in cultivating skilled talents for Shenzhen, it is acclaimed as a "flagship" of higher vocational institutions in China.
Situated 60 kilometers away from eastern Shenzhen and 120 kilometers away from the downtown, Shenshan Special Cooperation Zone is one of the city's explorations to expand its urban space and to further open up, and an important portal that drives the development of eastern Guangdong. To expand the influence of Shenzhen's vocational education to the city's surrounding areas, the construction of Shenzhen Polytechnic (Shenshan Campus) is launched, which has been listed as a key construction project of Guangdong Province and a major project of Shenzhen for three consecutive years.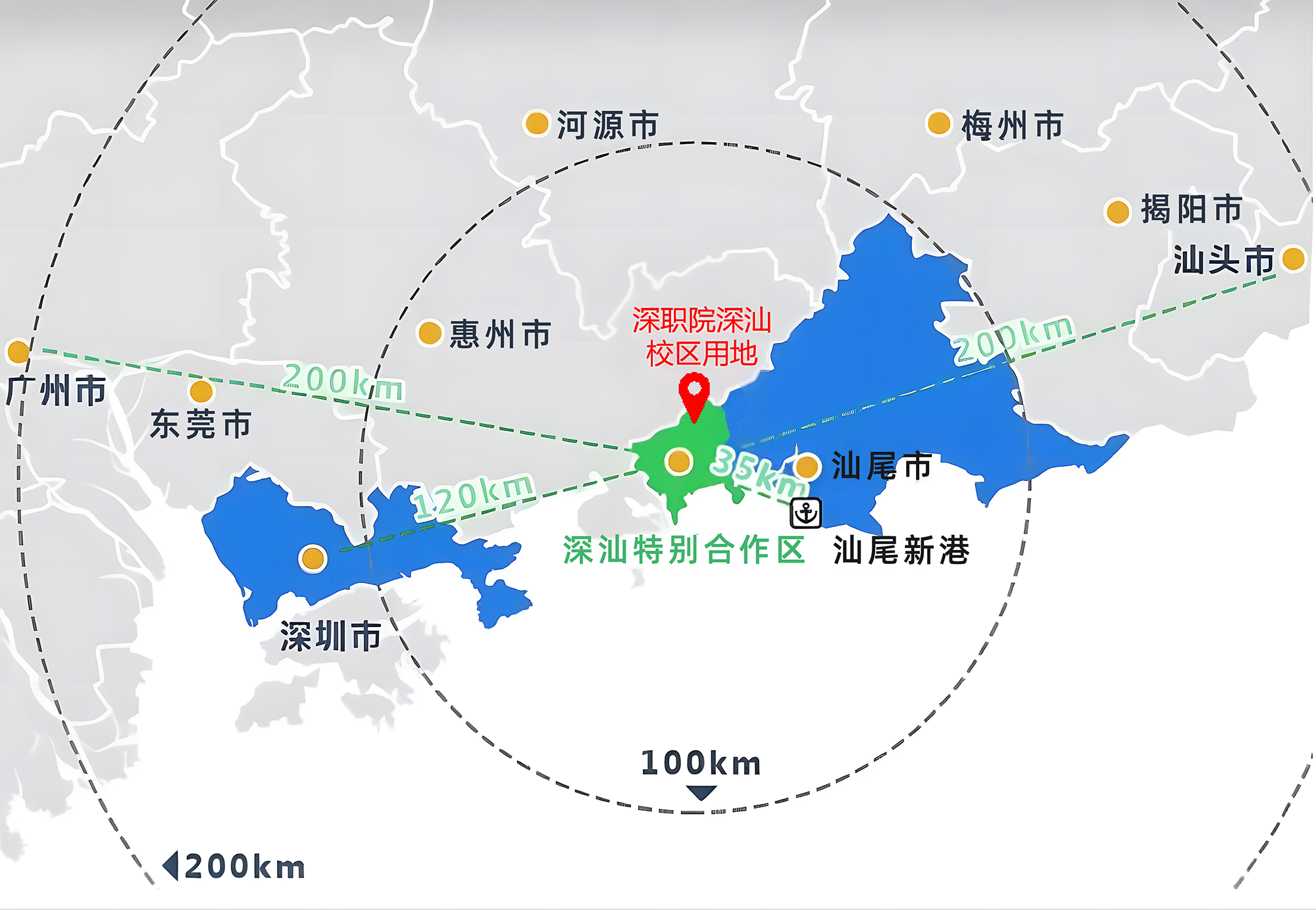 Based in Shenshan Special Cooperation Zone, the Shenzhen Polytechnic (Shenshan Campus) will serve Shenzhen and the rest of the Greater Bay Area while remaining open to the world. It will seek for excellence to lead and become a new benchmark of China's vocational education. It will be constructed with high quality by following Shenzhen Standards and adopting the SZPT Mode to provide intellectual support for regional economic and industrial development and empower regional revitalization.
The project will be constructed from a big-picture perspective and vision. With openness and inclusiveness, it's intended to create diversified, multi-dimensional spaces to stimulate vitality of the campus. Through exploring and practicing new concepts and modes of smart campus, it's aimed to become a center of urban cultural resources in Shenshan Special Cooperation Zone, and to build a digital campus that sets an example for global vocational institution construction and embraces the future.
The project's site leans against the mountain at the Baishi Col, where the Chishi River and Wanyao River converge. Surrounded by mountain and river landscape, it's like a blank canvas that allows designers to give fully play to creativity. Besides, the project has been accredited as one of the Second Batch of Near-Zero Carbon Campuses of Shenzhen. The schematic design shall fully consider regional characteristics, adapt to local climate, involve green technology and highlight new green building aesthetics, to construct a low-carbon, eco-friendly and idyllic campus that blends in with the surroundings.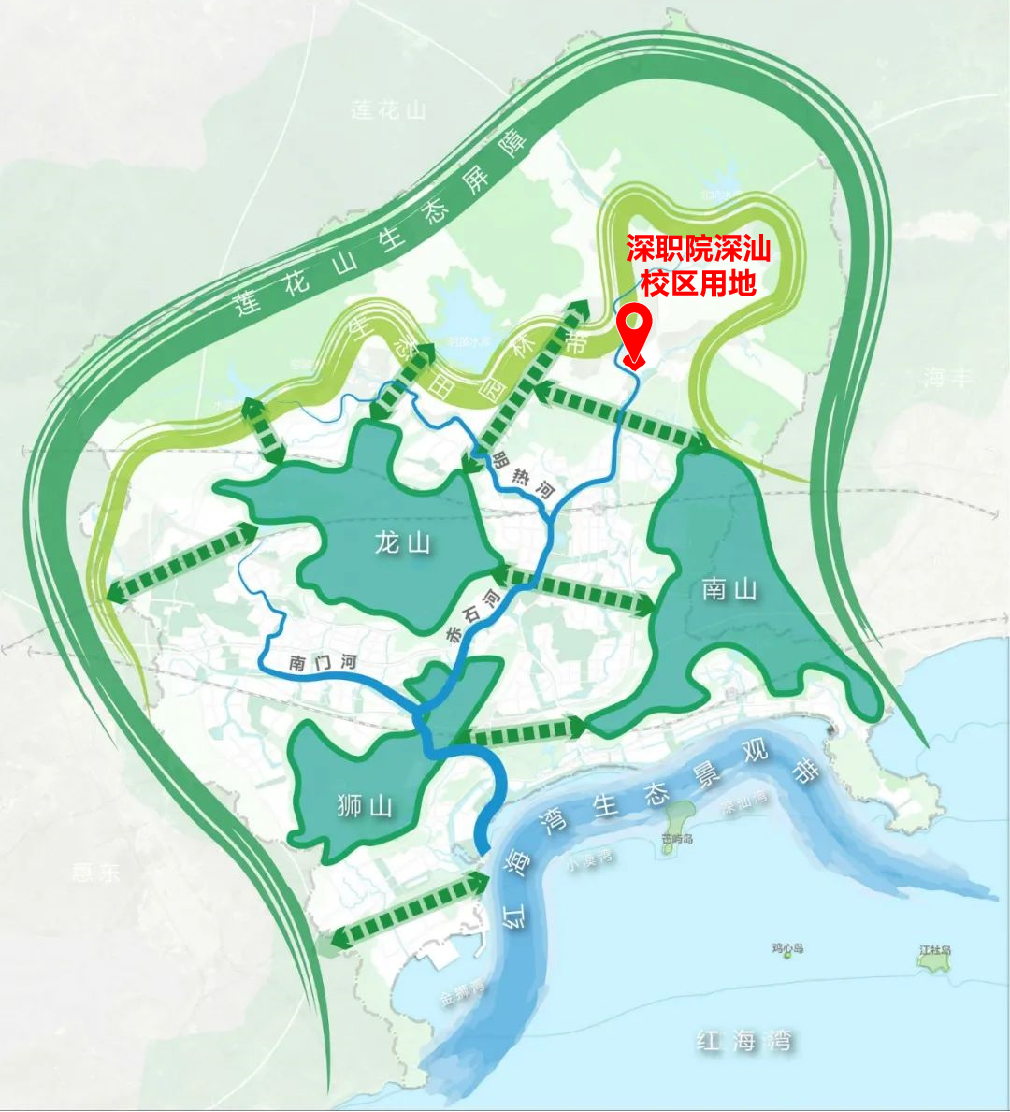 The project occupies a total land area of about 100 hectares, with a plot ratio of 1.2. With the building height limit set at 60 meters, the campus is to be developed in low intensity. The design shall take full consideration into multiple factors including the natural setting, the topography and landform, as well as campus culture, to build a non-urban, low-density campus environment that fuses with mountain and water landscapes.
The master planning of the project shall follow a dynamic system to build an adaptable, growing, hybrid and diverse resilient campus, which will adapt to an uncertain future and continue to grow in response to the changes in cultural and physical environments as well as in functional needs.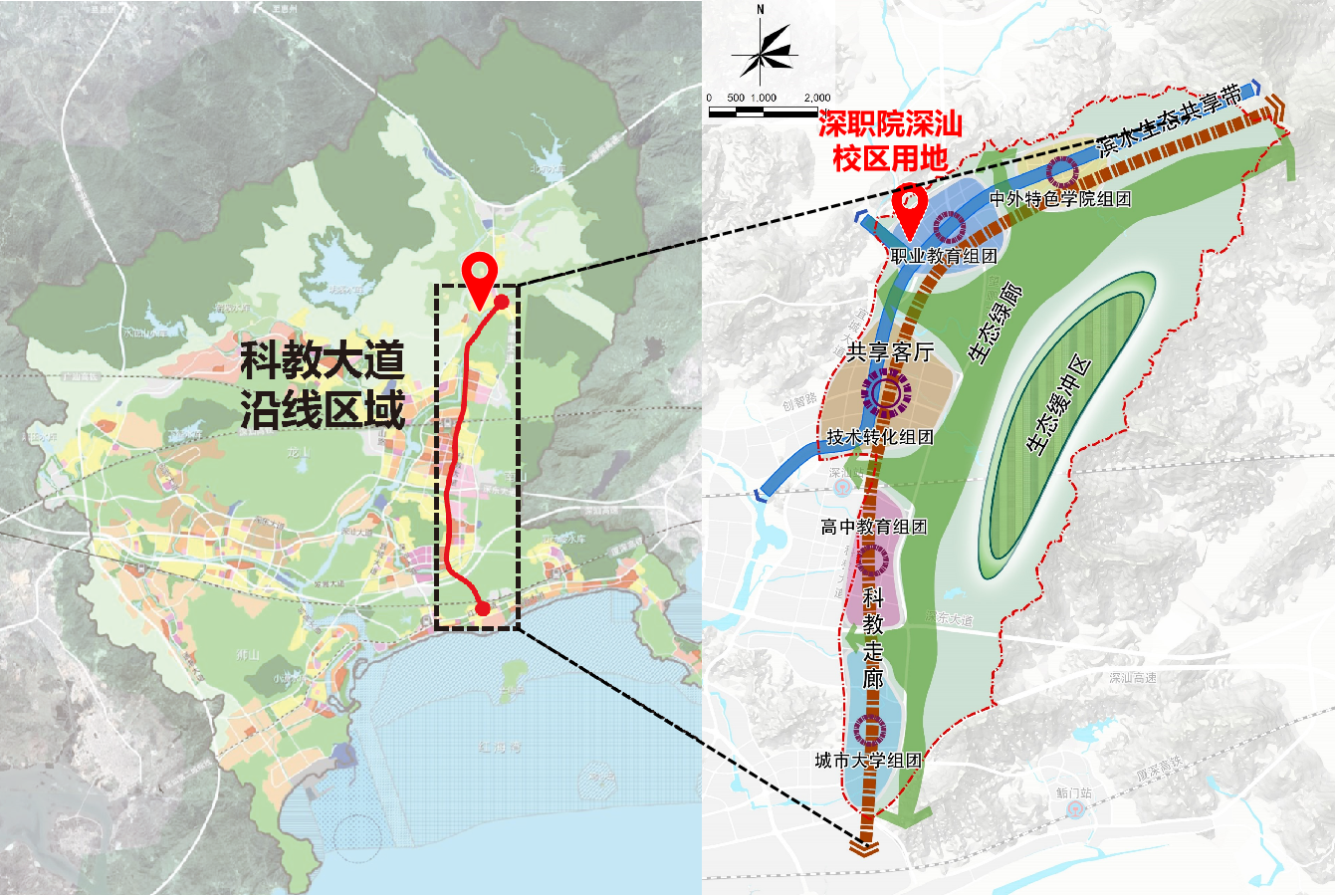 The Tender will be organized through a procedure of prequalification and scheme evaluation. The prequalification stage will mainly examine bidding applicants' achievements and proposed team, as well as the creativity and effectiveness of the bidding schemes. The goal is to attract innovative design teams to participate in the project, and to select exceptional design schemes that are feasible for the project.
The project will introduce Chief Designer System, in which the chief designer shall lead the schematic design and inject forward-looking design concepts into the project. Meanwhile, the chief designer shall engage deeply in all design stages of the project, provide support for technical decisions, and take charge of the quality of specialized designs and construction.
Applicants are expected to respond to the Tender in accordance with the relevant requirements of the prequalification documents. Creative applicants are welcome to submit bidding schemes.
The Shenzhen Polytechnic (Shenshan Campus) is located at Chishi Town of Shenshan Special Cooperation Zone, occupying a total land area of around 100 hectares. It will be constructed in two phases. The Phase I will be built within a 53.2-hectare land area designated for construction, and will include a gross floor area of around 417,500 square meters to accommodate facilities including training studios, colleges for featured industries, a library, a stadium, an activity center, the faculty and students' dormitories, canteens, and logistics facilities, etc.
The Shenzhen Polytechnic (Shenshan Campus) is planned to enroll a total of 15,000 full-time students, and Phase I will serve 10,000 students in six colleges with 38 majors.